HOME > English
Top Management Message
Since its foundation, Internet Research Institute, Inc. (IRI) has consistently worked towards the creation of a new information society, in order to become the vanguard of the digital information revolution.
Since the concept of Industry 4.0 was proposed in Germany in 2011, the world is shifting drastically towards the "fourth industrial revolution." Prior to this global trend, I had published a book titled "The Fourth Industrial Revolution" (published in 2010 by Asahi Shimbun Publications Inc., Chinese edition translated and published in 2016 by Toho China Publications) and positioned the IRI Group as a corporate group to carry out the fourth industrial revolution. In order to lead this new revolution, the three technologies, namely, IoT, Big Data and AI, are considered essential.
The IRI Group had recognized the importance of these three technologies back in 2010, and since then has taken part in the establishment of an industrial association, undertaken R&D and promptly launched new businesses, as well as planned and executed alliance strategies with research institutions and companies in and outside of Japan. Specifically, we formed alliances with Technion (Israel Institute of Technology), Nagoya University, Keio University, BBTower and University of California San Diego. As one of these initiatives, we will start in July 2017 the operation of the "Hiroshi Fujiwara Cyber Security Research Center" at Technion as a facility dedicated to cyber security technology, which is the most critical aspect in promoting the fourth industrial revolution. By utilizing the achievements of this Research Center, we will work to expand our business based on the technologies related to IoT, Big Data and AI, targeting the global market.
Additionally, IRI, the core company of the IRI Group, is planning to go public overseas in the near future. By taking advantage of this listing overseas, we will promote business development that aims to achieve globalization of our group management going forward.
I look forward to your further support and encouragement in the future.
Hiroshi Fujiwara
President and CEO



Philosophy
IRI regards Internet Protocol (IP) as today's most important theme both in terms of technological and social aspects. As such, in order to be a "constantly innovative company" that can contribute to the society through IP technology, we especially place value on the following three points.
"Growth Potential"
When positioned as the driving force behind the industrial revolution, IP can become even more critical in all areas of the industry and society. At IRI, we wish to maintain our growth potential by continuously applying IP technology in all areas.
"Transparency"
We constantly wish to deliver to the wider society our vision of the network society to be realized through the utilization of IP, and what we aim to achieve and plan to do to that end.
"Problem-Solving Ability"
IP technology has enough impact to change the existing industrial structure, organizations and values. But as this is a new challenge, there may be cases where things won't proceed as expected or may lead to causing new problems. Even in such cases, IRI will be a reliable source to all under any situation.



Corporate History of IRI
| | |
| --- | --- |
| December 1996 | Internet Research Institute, Inc. (IRI) established |
| November 1999 | IRI (30%) jointly establishes Mobile Internet Capital, Inc. (MIC) with Mizuho Securities Co., Ltd. (30%) and NTT DOCOMO, INC. (30%). |
| December 1999 | IRI is listed as one of the first issues on Tokyo Stock Exchange's Mothers |
| December 2000 | IRI makes an initial investment in BroadBand Tower, Inc. (BBT) |
| April 2002 | IRI makes an additional investment in BBT, making it a subsidiary (currently, IRI owns 22% of BBT, an affiliate accounted for by the equity method) |
| November 2007 | IRI becomes a wholly owned subsidiary of ORIX Corporation. |
| March 2011 | Hiroshi Fujiwara buys back all IRI shares from ORIX Corporation. (Hiroshi Fujiwara holds 100% of IRI) |
| January 2016 | NANO OPT Media, Inc. becomes a wholly owned subsidiary of IRI |
| December 2016 | Celebrating the 20th anniversary of IRI, a reception is held at Hotel New Otani |
| May 2017 | MEDIA DO Co., Ltd. underwrites a capital increase for IRI (MEDIA DO, with approximately 20% ownership, becomes the second largest shareholder of IRI) |
| June 2017 | IRI submits a letter of intent for listing on Tel Aviv Stock Exchange, Israel |
| September 2017 | IRI is granted ISO/IEC 27001 certification on the information security of International Standards. (10/10/2017) |



Profile
1) Company Name
Internet Research Institute, Inc.
2) Representative
Hiroshi Fujiwara (President and CEO)
3) Outstanding Shares
17,393 (as of May 31, 2017)
Common Stock
16,637
Class A Stock
756
4) Composition of Shareholders
Hiroshi Fujiwara, MEDIA DO HOLDINGS Co., Ltd. and other individual
shareholders
5) Number of Employees
5 (as of May 31, 2017) (excluding contract employees)
6) Location
1-6-1 Nishishinjuku, Shinjuku-ku, Tokyo
Shinjuku L Tower 12F
Tel:03-5925-8971(main switchboard)
7) Main Banks
Mizuho Bank, Ltd.
Sumitomo Mitsui Banking Corporation
8) Corporate Officers
Representative Director Hiroshi Fujiwara (President and CEO)
Director Mieko Nakagawa (COO)
Director Kazuto Sasaki
Director Osamu Nakamura (Outside Director)
Director Yasushi Fujita (Outside Director)
Auditor Hidehiko Suzuki
9) Accounting Auditor
PricewaterhouseCoopers Aarata LLC
10) Subsidiary
NANO OPT Media, Inc. (100% subsidiary)
11) Major Affiliated Companies
BroadBand Tower, Inc.(22%)
Mobile Internet Capital, Inc.(30%)
13) Membership Associations
Japan Business Federation (KEIDANREN)
Internet Association Japan



Information Security Policy

<Basic Philosophy>
Internet Research Institute, Inc. (hereinafter the "Company") aspires to be a leading company on Internet technology in the IoT era, with a corporate philosophy of greatly contributing to the development of an affluent and sound information society.
In the continuous and constructive provision of Internet technology services under this philosophy, it is essential that the Company protects its clients' and its own information assets, making them available for use when appropriate to do so while always ensuring accuracy of the information and compliance with laws and regulations.
Recognizing that the quality of information security is the foundation of all the services it offers, the Company has established an Information Security Policy covering all matters concerning information handled by the Company's officers and employees and by employees of the Company's partners in the course of business as well as information processing facilities (hereinafter "information assets"). The Company shall endeavor to ensure that everyone concerned is familiar with the Information Security Policy and complies with it.

<Protection of information>
The Company protects all the information pertaining to business activities and continually implements the most optimal information security measures.
In particular, the Company positions the client information management system concerning the Company's Internet technology services, personal information, information on clients, and information on expertise as the most important information and does its utmost to ensure information security.
Furthermore, the Company implements appropriate measures, including raising awareness and education on information security, for all employees involved in the Company's business.

<System>
In order to promote protection of information assets, the Company has established an Information Security Committee and appoints an Information Security Officer to chair the committee.

<Risk Assessment>
The Company performs risk assessment in order to implement appropriate information security measures corresponding to risks. Moreover, for risks that may affect the most important information identified through risk assessment, the Company accords the highest priority to implementing countermeasures for such risks.

<Compliance>
In order to ensure information security, the Company formulates rules governing the management and use of information assets owned by the Company. Business requirements, legal and regulatory requirements, and contractual information security obligations shall be reflected in these rules.

<Continuous improvement>
The Company establishes, implements, and maintains information security measures and reviews them periodically for continuous improvement.
April 26, 2017
Internet Research Institute, Inc.



Organizational Chart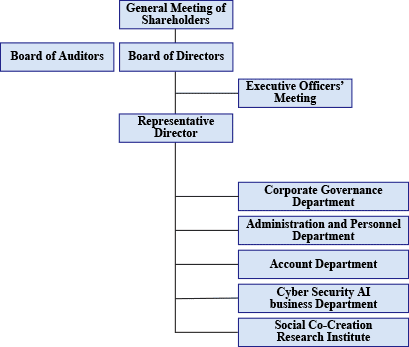 As of July 1, 2017